Our small-town values and atmosphere set us apart from larger city internet service provider companies. Our family, here at Lakeland Networks, is dedicated to the team and is happy to get our surrounding neighbourhoods connected. Read our June 2022 issue in the Dockside magazine to learn more about our happy, hardworking family at Lakeland.
---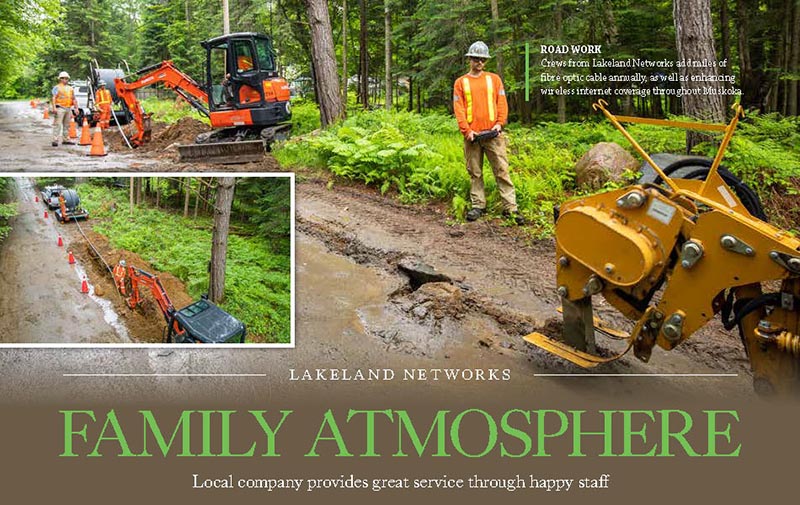 Stability, growth, and staff retention are usually the hallmarks of well-run business. While providing great service and products will help with stability and growth, it all begins with having a healthy working environment that promotes strong connections to the team, the company, and the community.
Lakeland Networks embodies these characteristics, says Josh Lovelock, Supervisor of Outdoor Operations – the person who oversees the fibre, wireless and electrical divisions as well as construction in the field. He has been with the company for seven years, starting as an electrician and working his way up through a variety of roles. "Lakeland is the best company I've worked for," says Josh. "We are truly like a family here. We have a great team, and everyone works well together. If anyone needs a hand, someone is always willing to help. Every day is different – we are constantly growing and adapting to new situations."
Lakeland Networks is a locally owned broadband company that delivers communication services and has been operating for over 10 years in Muskoka and the surrounding areas. They provide exceptional internet services – both fibre optic and wireless broadband – as well as phone and digital TV. The location of each home, business, or cottage determines the services available – as with any communications company. Customers that are on the fibre network enjoy world-class speeds of up to 1 Gbps or better.
Lakeland continues to expand their service areas, adding fibre and wireless broadband networks throughout the region. "It's very satisfying to be a part of making a big difference in people's lives by providing an amazing service, especially to areas that have very few options for internet," says Josh. "People are always so happy and grateful to see us working on their streets and in their communities."
Lakeland's loyal staff connect the communities they live in – some are born and raised Muskokans, while others have moved here to raise families. They work, play, volunteer, and send their kids to school in the local community.
"I would recommend Lakeland's service to anyone that has access to us," says Dave Keith, Director of Business Development and Operations. "In addition to offering superior services, we are local and provide excellent real person customer support. When you call in, you're talking to someone from our offices in either Bracebridge or Huntsville. We are truly a family."
Credits:
Dockside Publishing Inc.
Story by Chris Occhiuzzi