By Emily Anderson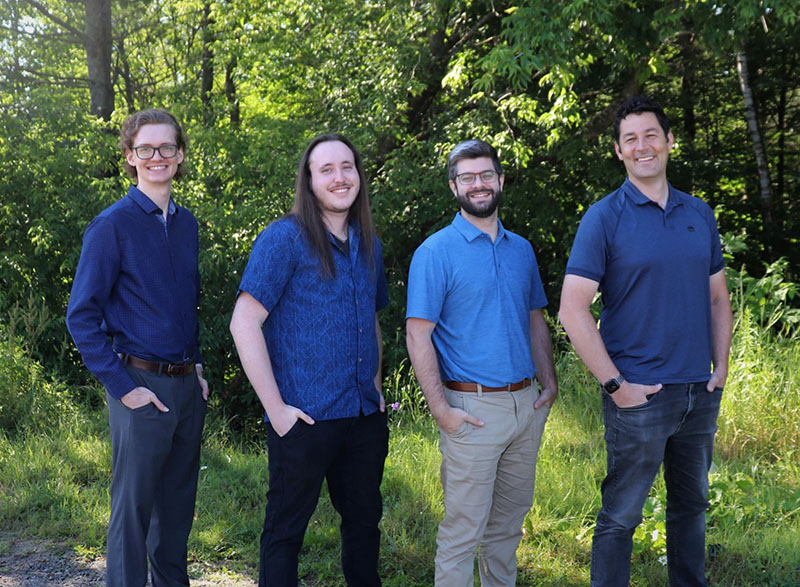 Lakeland Networks' Information Technology Team ensures that Lakeland staff from all four core companies—Networks, Power, Generation, and Solutions—have secure, functional systems. Each team member plays a crucial, but unique role in reviewing, implementing, and managing core infrastructure and new technological solutions.
Manager Dave Caplan says, "Our number one priority is making sure our customers, and fellow employees, can work at their best. We are constantly trying recent technology and finding innovative solutions to make it easier to complete our tasks." The companies rely heavily on the IT team to keep their systems as safe as possible, and away from malicious actors. In addition, the team supports end users, also known as the people, such as employees, that hardware and software are designed for.
Zac Force, IT Systems Administrator says, "We do anything from the simple computer support tasks to installing and managing servers and network links." This is all imperative so that the companies can be productive 24/7. Force states that without the IT team in today's age of technology, "we could not function nearly as efficiently; imagine a company that doesn't use computers!".  
What sets Lakeland's IT Team apart is the unique personalities that each of the employees brings to the table. Steven Klinck, Junior IT Systems Administrator, says that his favourite part of his job is, "Coming in each day to a job in a field that I enjoy and working on a team that's abundant in good humour and positivity." The experience at Lakeland is truly one of its own with coffee connoisseurs, soccer stars, video game enthusiasts, plant hobbyists, and awesome dads. Branden Shirriff, our Junior IT Specialist agrees, saying, "I love the interactions I get to have with my coworkers, whether it be helping each other out to solve problems or the friendly banter back and forth as we chat while working on our projects."
While IT is their passion, each employee has a different idea of the best task to complete in the department. For Klinck, a specific task that he finds most enjoyable is the setup or repair of computer hardware. Shirriff cannot help but recall his favourite part of the day as being, "The copious amounts of free coffee I get to consume!" He would like to add that in all seriousness, his favourite part of each day is simply collaborating with a unique team, "The team here is always ready to help each other out so that we can succeed together."
Dave Caplan is proud of his team, noting "they are an excellent group, and they work very well together. They each have different strengths and they support each other with any problems that arise. Because of their teamwork they can tackle any problem and I am confident in their abilities."
While the team strives to keep our companies secure, they also wish to keep our customers and community secure while online. See below some online safety tips that you should use in your personal lives.
Safety Tips:
An easy way to make a secure password is to take a phrase or quote that's easy to remember, remove the spaces and replace some characters with number or symbols, e.g. "The sky is blue" becomes "th35ky!sb1u3". This type of writing is called leetspeak.
Ensure that all links to websites are dependable before clicking on them. An example of a malicious link could appear to be from a known company, but the spelling in the name is slightly different. Be sure to read the link and catch spelling errors, for example, www.landlakenetworks.com.
Never share your passwords with anyone and use a new password for each site rather than the same password across sites.