"The journey to qualify for the Boston Marathon has been transformative for me. The opportunity to qualify on a home course at the Muskoka Marathon with big support from the growing local running community was an added bonus. I'm looking forward to sharing this accomplishment with a few other amazing Muskoka based runners headed to Boston in April."
– Fraser Burgess
My Running Story / Bio
I began running in early 2017 at age 35 as part of the rehab protocol from ACL reconstruction surgery. I entered my first 5km and 10km races that summer. Having never run much more than a 10km I registered for the Niagara Falls Marathon scheduled for fall 2017 with the goal of just finishing it. I completed the race in 3:37. Looking back now I realize how wildly unprepared I was. It was by far the hardest thing I had ever done. I knew I had just scratched the surface of my potential and that I would be coming back to challenge the marathon in the future.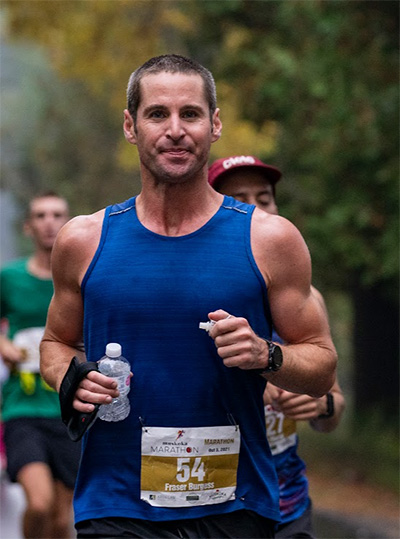 Through 2018 and 2019 I began to take training and racing more seriously. I was targeting the 2019 Hamilton Marathon and at that point that goal of qualifying for the Boston Marathon was firmly implanted in my mind. Through this period, I was training hard but constantly battling injuries as my body adjusted to the volume and intensity required. In the final weeks before the race I got injured and on race day I ended up walking off the course at the 33km unable to continue.
After the disappointment of Hamilton, I laid out a 2-year plan to build towards another marathon attempt at age 40. I worked to consistently get better, making incremental gains in speed, endurance, and mental strength week after week.
In 2021 I finally got another chance to challenge the marathon, on a newly created Boston Marathon qualifying course on home turf. The Muskoka Marathon was held in October, and I arrived at the start line prepared and healthy with lots of local support on the course. I had a good day and ran the 42.2km in 2:59:32 which qualified me for this years Boston Marathon by more than 10 minutes.
My Total Yearly Distance
2017 – 1500km
2018 – 3000km
2019 – 3600km
2020 – 3600km
2021 – 4250km
2022 – 1100km and counting
My Personal Bests
5km = 17:05
10km = 36:15
21.1km (Half Marathon) = 1:21:24
42.2km (Marathon) = 2:59:32
WHY IS THE BOSTON MARATHON A BIG DEAL?
Unlike other major marathons, to register for the race, you must qualify at a particular (relatively fast) pace. The Boston qualifying standard drives many people throughout their careers as a mark of achievement. This year's race will be the 126th running of the Boston Marathon.
This Year: April 18, 2022
WHY IS THE MARATHON 26.2 MILES LONG?
The marathon dates back to several hundred years BC. The story goes that a Greek messenger named Pheidippides ran 25 miles from Marathon to Athens to deliver a battle victory message, announcing that Greece had defeated Persia, then died on completion of his mission.
WORLD RECORDS
Men – Eliud Kipchoge (Kenya) – 2:01:39
Women – Brigid Kosgei (Kenya) – 2:14:04
CANADIAN RECORDS
Men – Cam Levins – 2:09:25
Women – Malindi Elmore – 2:30:59
BOSTON MARATHON RECORDS
Men – Geoffrey Mutai 2:03:02
Women – Buzunesh Deba 2:19:59