By D.V.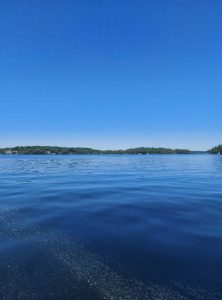 Imagine yourself relaxing on the dock. It is a beautiful day, sun shining, temperature perfect, and you are about to stream some of your favourite music. That all too pesky 'data overage' symbol comes up, and you know you will not be able to listen. Although the tranquility of nature is beautiful, sometimes streaming a good song, or watching an upbeat video can't be a simple pleasure.
How can this be fixed? Internet solutions in Muskoka can be difficult due to the rolling hills and beautiful tree lines. Lakeland staff recently designed and installed a new "Hybrid Access Network" to improve connectivity in a specific scenario. If you are wondering what a Hybrid Access Network is, you are likely not alone. This refers to utilizing both wireless and fibre technology to achieve connectivity. Since two different technologies have been used to deliver one high-speed broadband internet solution, the network is created as a hybrid.
This interesting project delivers high-speed internet from an existing Lakeland Networks wireless tower to another Lakeland site across the lake. Then the internet feed is fed through 3kms of fibre at the bottom of the lake, and emerges at the end user's premises. This project is the first of its kind that Lakeland has taken on; it was an exciting adventure. From working with different property owners, to making trips to towers on islands, to having fibre laid into the lake by barge, there is no task too daunting for our team.
The group at Lakeland is always looking to be innovative in terms of growth and connectivity. This hybrid project is a great example of the challenging tasks we can take on which showcase our team-oriented perspective. This solution would not have been possible without the great group here at Lakeland Networks. Local, dedicated, personable, and a part of your community.