By Joni Ann McChesney, Sales Supervisor
Selling in our community holds a special meaning to me. It signifies a deep connection to the place I call home. Being rooted in Muskoka, where I have built my life and formed lasting relationships, makes my involvement even more significant. It is not just a business transaction, it's a personal exchange between neighbours, friends, and acquaintances.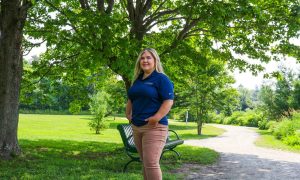 One of the most rewarding aspects of selling in the community is the familiarity and personal touch that comes with it. My customers are not faceless entities, they are the people I encounter on a regular basis. Whether it's the friendly Purolator driver who delivers packages to my doorstep, or my child's teacher at the public school. These individuals are part of my daily life, they are part of my community. Being a part of the Lakeland Networks team, allows me the opportunity to serve and support them.
The sense of pride I feel in being able to contribute to the well-being of the community I live in is immeasurable. It goes beyond just providing products or services. It is about being an active participant in the growth and prosperity of the place I call home. By selling within the community, I can witness firsthand the positive impact my efforts have on the lives of those around me.
Being local myself, I understand what matters the most. I am not detached from the needs and concerns of those I serve. Instead, I am deeply aware of what matters. This understanding enables me to tailor offerings and provide a level of service that is attuned to their specific needs. It fosters a sense of trust and reliability, as my customers know that I am genuinely invested in their well-being.
In conclusion, selling in the community holds immense significance to me. It is a testament to my commitment to the place I call home and the people who reside here. The personal connections, the opportunity to support and serve my neighbours, and the ability to truly understand what matters to them make this endeavour both fulfilling and meaningful. It is a privilege to contribute to the community, be a trusted partner and be someone who can make a positive difference.