We're Muskoka, Parry Sound and Almaguin's leading local provider of the fastest internet available.
As Lakeland Networks evolves, we continue looking into the future—seeking out new technologies and opportunities to support our business environment. Our mandate is to provide our local areas with the best communication services that connect them to what is important in their lives. Our vision is to become the preferred communications service provider for Parry Sound, Muskoka, Almaguin, and Wasauksing First Nation areas through the provision of exceptional local service and support.
In 2000, Lakeland Energy Ltd. was founded as a company to handle the maintenance and repair of our municipality's streetlights, tankless and conventional water heater rentals.
In the early 2000s the company completed some electrical engineering and distribution contracting projects for other parties.
Around 2008 the company provided some dark fibre to the local school board. From this they were subcontracted to provide fibre service to provincially run sites in Bracebridge, Huntsville, Burk's Falls and Sundridge. The company also installed fibre optic communications to Lakeland Power's municipal substations for monitoring and control.
Over time, it became apparent that this division had outgrown the name of Lakeland Energy; we needed to be more recognizable within the technology field. In 2010, Lakeland Energy Ltd. created a separate division, Lakeland Networks. The company then proceeded to provide high speed internet, phone service, IT hosting and consulting to businesses throughout Muskoka.
Around 2013 the company started providing high speed fibre internet and phone to residential customers, starting in Bracebridge.
In 2015 the company was awarded a Small Communities Fund government partnership of $9m, split 1/3 each between Provincial, Federal and Lakeland Energy, to offer high speed fibre internet services throughout more of Muskoka. The project was completed one year ahead of schedule and has been a huge success in providing more competitive services to residents and businesses.
In 2018 the company started providing triple play services: internet, phone, and digital TV.
In 2019, after assisting Wasauksing First Nation with their Connect to Innovate application, Lakeland provided high speed fibre internet, phone, and TV services to the island. This rollout was a success as Wasauksing First Nation was the first fibre optic broadband project completed in Canada under the Connect to Innovate federal funding program.
In 2020 the company purchased CORE Broadband, a wireless company that services Parry Sound-Muskoka, with a goal to improve broadband throughout a larger area through wireless, fibre or a hybrid combination solution.
Currently the company services over 7,000 customers throughout Parry Sound, Muskoka, Almaguin, and Wasauksing First Nation areas.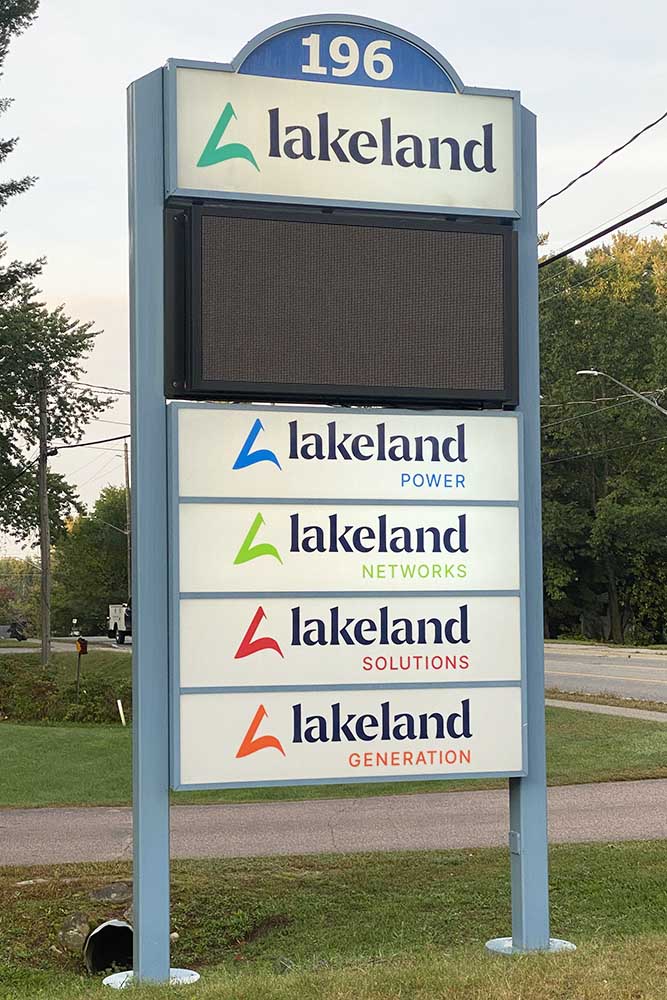 Lakeland Energy's retail arm Lakeland Networks provides internet services to more than 7,000 customers in Parry Sound, Muskoka, Almaguin, and Wasauksing First Nation areas. Fibre optic and wireless internet service is provided in communities from South River south to Orillia, east to Lindsay and Fenelon Falls, as well as west to Wasauksing First Nation and additionally Parry Sound. Lakeland Networks is the largest and most diverse locally owned and based communications provider in the District of Parry Sound & Muskoka. Lakeland Energy is a subsidiary of Lakeland Holding Ltd. wholly owned by the municipalities of Bracebridge, Huntsville, Parry Sound, Burk's Falls, Sundridge and Magnetawan.